Welcome Princess Evangile Wiki
Edit
Welcome to the Princess Evangile Wiki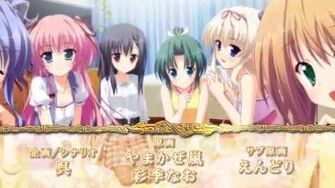 About Princess Evangile
Edit
 Princess Evangile is a Visual Novel Published by Moonstone
Burdened by the incredible debt his father left behind, Okonogi Masaya is now destitute and alone. However, through a strange collection of events, he finds himself living at the prestigious Vincennes Academy, an all-girls charm school! His purpose is to mingle amongst the Filles De La Vincennes ("Maidens of Vincennes") as the single male "sample" to promote gender integration. How will these young, innocent, and otherwise pure maidens react to his presence?!
And just like that, his life at an all-girls school began...
This romance ADV explores the question of gender integration at a private school.
A curious series of events leads to our hero becoming the only boy at a prestigious girls' academy... But over 99% of the girls are against integration!
The girls are so sheltered, that they actually run away screaming at the sight of him!
Our hero needs to befriend them if he wants to stay, but the situation's looking grim...
The sole girl in favor of reform looks to our hero with hope in her eyes.
Thus, he must fight -- to convince the few neutral parties at the school, his childhood friend... and even those who show him open disgust!
The game spans a full year, divided into 26 "anime-like" chapters.
Colorful movies and SD illustrations bring the classic girls' school events to life!
Athletics festivals, elegant balls, swimsuits, love rivalries... and intimate scenes that would make a true lady blush!
Latest activity
Edit
Photos and videos are a great way to add visuals to your wiki. Find videos about your topic by exploring Wikia's Video Library.